Frequently Asked Questions
What does it mean to be organized?
When you are organized, you know exactly what you have and where to find it when you need it. Both parts are necessary. If you don't know what you have, you risk repurchasing it, wasting time, money, and energy. If you know what you have but cannot find it, it is like not having it at all.

What is a professional organizer?
A professional organizer is someone who provides information, ideas, structure, and a customized approach to organizing. Professional organizers educate their clients about basic principles of organizing. They guide, encourage, support, and provide focus and direction.

What can a professional organizer do for me?
A professional organizer can design systems and processes that teach you organizational skills. This can increase productivity, improve quality of life, lower stress, and free up more time to enjoy other personal interests.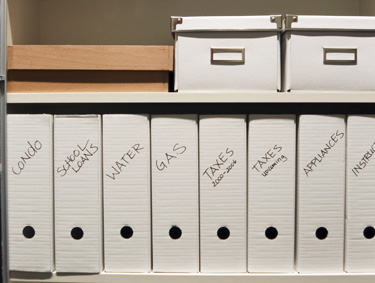 Do you have different fee rates depending on the nature of the work?
My hourly rate remains the same no matter the type of job. I do charge a higher rate if I must drive more than 45 minutes to get to your location.

Do you have a minimum or maximum number of hours per session?
Yes, I offer a minimum of three hours. Two three-hour sessions may be scheduled for the same day if desired.

When do you require payment?
Payment is required at the time of service. Jobs requiring multiple days require a deposit at the end of the first day.

What do you wish new clients knew or understood about working with an organizer?
Clients need to know that I cannot do the job alone. I require their open communication to determine their particular needs, time frame, budget, expectations, and desired outcomes. During the work session, I need a client's attention to the task at hand. There will likely be questions to be answered throughout the process. Finally, at the conclusion of a job, I need to know if the systems we put in place are working as desired.

How long will it take me to get organized?
Unfortunately, the time required cannot be exactly predicted. Several factors will need to be taken into account. First, what is the scope of the project—are we organizing one room, or an entire house? Second, how quickly can you make decisions? Finally, are you comfortable with and able to complete work independently between appointments? After the initial assessment, I will do my best to give a reasonable estimate of the time that will be required.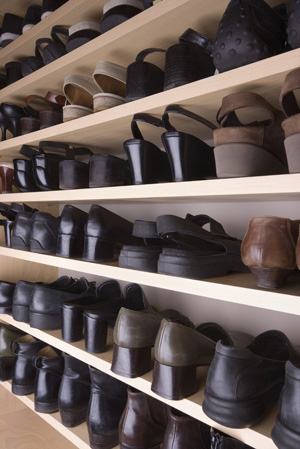 What will happen to my purged items?
Items that still have usable life can be sold, gifted, or donated to the charity of your choosing. Items that do not have usable life will be recycled if at all possible. Only when neither of these options work will I recommend throwing an item away. I do offer carry-away services for donations as well as for recyclable items.

Should I clean up before you arrive?
The short answer is no. I am not in your space to judge, but to help you through the organization process. I can do this much more effectively if I see your habits and tendencies as they are. I need to understand your situation exactly as it is in order to work with you. Please also understand that, as we work, the space will get worse before it gets better. In the end, you will be able to find everything you need.

Do you clean houses?
By the generally understood definition, no. However, I will clean the areas we are organizing before things are put away; by doing so, you will have a clean slate to begin with. I use only non-toxic, natural cleaning materials and ask that you notify me if you do not have a vacuum cleaner so that I may bring one.

Do I need to purchase supplies before you arrive?
There is no need to purchase any supplies in advance. After the "sort", "purge", and "assign a home" phases of the organization process, we will determine what supplies are needed to hold the items you have. I will also work to use organizational materials you already own if at all possible.

Are your services confidential?
As a member of the National Association of Professional Organizers, I abide by their Code of Ethics (available upon request). All services are completely confidential, and I will not share any of your personal information with anyone at any time.